Night to Shine Volunteer Roles
 Volunteer Roles
Thank you for your interest in volunteering with NTS Kingsland 2024. Below is a list of volunteer roles with a brief description. You may request a role during registration and we will do our best to ensure that is where you are assigned, but please be flexible and know that you may be assigned to another area as needs arise. If you have a reason for requesting a specific role, please note that on the registration form and we will do our best to accommodate those request. 
*If you are requesting the sensory team, please provide a brief explanation of certifications/qualifications in the box provided on the registration form. 
Registration ends Feb. 1, 2024
Some volunteer roles will require you to work the entire event. Other roles such as hair/make-up, shoeshine, flowers, check-in and paparazzi will not. If you are assigned one of these areas, you will check-out after the last guest has come through your area or walked the red carpet. EVERY role at Night to Shine is important and needed to make each and every guest feel special and excited about the evening.  
All volunteers are required to attend one volunteer training meeting to participate. Training dates have been scheduled for Fri, Jan. 19 @ 6 p.m., Sat, Jan 27 @ 10 a.m. and Sun, Feb. 4 @ 4 p.m.
*Family and friends who wish to serve as a Buddy to a specific guest must register as a volunteer and attend training* 
Questions? Email nighttoshine@kingslandfbc.org
Click HERE to register as a volunteer. Please read through the roles below before registering as a volunteer. Some roles will fill quickly.  This page will be updated with current volunteer needs.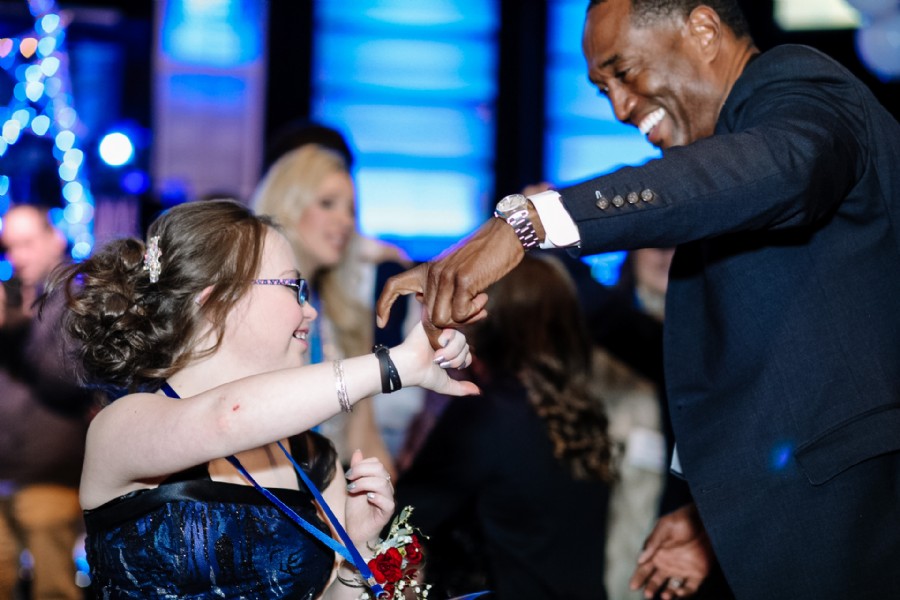 ---
ACTIVITIES TEAM 
-  Set up and participate in any additional activities with guests, including karaoke and other games. 
BATHROOM ATTENDANT TEAM

-  
Monitor the restrooms. Volunteers are not to help any guests in the restrooms but will be stationed just outside to monitor and report any issues that may arise. 
BUDDY TEAM

-  Accompany and assist assigned guest throughout the evening, providing companionship and any assistance they may need during the event. Sit with their guest during dinner and engage with them. Volunteer buddies must be at least 16 years old.
BUDDY CHECK-IN TEAM

-  Greet buddies, give them their name tags or lanyards and direct them to their team leader for a pre-event meeting on ensuring their assigned honored guest has the best prom experience possible.
DANCE FLOOR TEAM 

- - Stay on the dance floor through out the evening interacting with the guests, giving buddies a break if needed, and keeping the energy going on the dance floor.
DECORATIONS HELPER 

- Help the decor leader set-up and decorate the spaces during the week leading up to the event. Must be available during the day the week of the event.
FLOATER TEAM

-  Constantly "float" around the main event /dance floor space, kitchen, restrooms and outdoors to assist anywhere an extra hand is needed. Ensure guests can move about easily in the main event/dance floor space, seats are available should they need to rest and water stations are continuously stocked. Give volunteers assigned to a specific area a restroom break as needed. 
FLOWER TEAM

-   Assist with unloading and properly laying out corsages and boutonnieres. Help guests select and pin on their flowers or place them on their wrist.
FOOD SERVICE TEAM

-   Assist caterer with unloading food, additional food preparation and set up food and beverages in the main event space and in the Respite Room. Serve food to guests in main event space and Respite Room (for parents, caretakers or family members). Be knowledgeable about the items and assist guests in finding what they would like (especially if they have dietary restrictions or allergies) and refill food warmers, drinks and snacks.  
GIFT TAKEAWAY TEAM

-  Manage gifts and help each guest collect their favors to take home.
GUEST REGISTRATION TEAM

 - Warmly greet guests, sign them in, give them their name tag or lanyard, and answer any questions they may have. Help guests connect with their assigned buddy for the evening.
HAIR, MAKEUP & SHOESHINE TEAM

- Arrive at the designated time and assist set-up team with the salon area. Welcome each guest to a salon station for hair and makeup or to a seat for a shoeshine. Chat with them while you pamper them and make them feel special.
LIMO TEAM 

-  Ensure guests and Buddy are safely loaded and unloaded in limo. Keep the line of guests waiting for limo organized and a safe distance from loading area. 
MEDICAL TEAM

 - Assist professional EMT personnel at the event by providing basic first aid and care for any medical needs or emergencies.
PAPARAZZI TEAM

-  Cheer for and treat honored guests like celebrities and VIPs on the red carpet.
RED CARPET TEAM

-  - Assist and announce guests as they make their way down the red carpet, manage flow of traffic and cheer them on to make them feel welcomed.
RESPITE ROOM TEAM

-  Love on the parents/caretakers by serving food, spending time getting to know them and being available to pray with them. 
SENSORY TEAM

- Spend time with guests who may have become over-stimulated on the dance floor or in other areas of the prom. Interact with them by participating in sensory activities, singing or listening to calming music or simply providing them with some quiet time. 
SET-UP TEAM

- Arrive early the day of the event to help with set-up and move tables, chairs and any other items that need to be taken care of that day. Must be able to lift and carry 20 lbs. 
TEAR DOWN TEAM

- Help take down decorations, move tables & chairs back into place, pick up trash, vacuum, sweep, etc. the event space on Saturday, Feb. 11 beginning at 9 am.
VOLUNTEER CHECK-IN TEAM

-  Greet volunteers, give them their nametags or lanyards and direct them to their team leaders.
Ready to volunteer? Click HERE to register. Please read through volunteers roles before registering. Some teams will fill quickly. This page will be updated with current needs.