Music Ministry
"...speaking to one another in psalms and hymns and spiritual songs, singing and making melody with your heart to the Lord;"        ~ Ephesians 5: 19
WEE KIDS CHOIR
For Kids 3 years - Kindergarten
Wednesdays
6:00PM - 7:30PM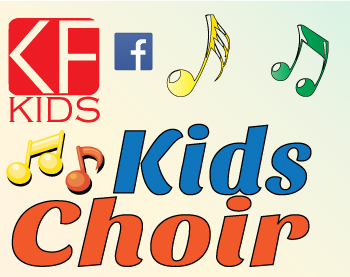 KIDS CHOIR
For Kids 1st - 5th Grade
Wednesdays
6:00PM - 7:30PM
KF Kids Choir provides our children with spiritual and musical experiences that will help them to grow in their relationship with Jesus Christ and develop their God-given talents.
During our time, we will focus on:
Raising up future worship leaders
Learning songs -old and new- that lead others into the presence of God
Working on seasonal music events (additional rehearsals added, when needed, to enhance these events.)
We have a Facebook group page for those needing updated information. Click on the icon below to go to that group page.
CELEBRATION CHOIR
The Celebration Choir recently completed a recording project entitled "His Story, Our Song" It is available digitally via Spotify, Pandora and Apple Music. The Live Presentation can be seen on YouTube.
This group comprised of adults 18 years and older, leads in worship with various Praise Teams during the 8:30 AM, 9:45 AM (Praise Team) and 11:00 AM Services. This choir is also involved in major productions throughout the year, including our Kingsland Christmas Celebration. No audition is necessary, only a willing heart to lead others in worship. Weekly rehearsals are held Wednesday evenings from 6:00-7:30 pm beginning in the Worship Center.
CELEBRATION PRAISE BAND

Our Praise Band helps to lead worship each week by playing during our worship celebrations on Sundays at 8:30 AM, 9:45 AM, 11:00 AM & 5:30 PM.  Along with the Celebration Choir, the Praise Band is involved in special musical events throughout the year. This auditioned group consists of people with the ability to play a band instrument, and willing and dedicated to rehearse each week. There are basic music requirements involving music reading and playing ability.
CELEBRATION HANDBELLS

This auditioned group provides an opportunity to praise the Lord through ringing bells. This group takes part in various worship experiences throughout the year. Basic music reading skills are required to participate. Weekly rehearsals are on Wednesday at 7:30-8:30pm in the Choir Suite.
If you have questions or interest in any of these groups please click below.