Student Ministry

The Student Ministry of Kingsland First Baptist Church exists to REACH families with the gospel, TEACH students God's Word, SERVE others and WORSHIP Jesus Christ in order to glorify God.
STUDENT ACTIVITIES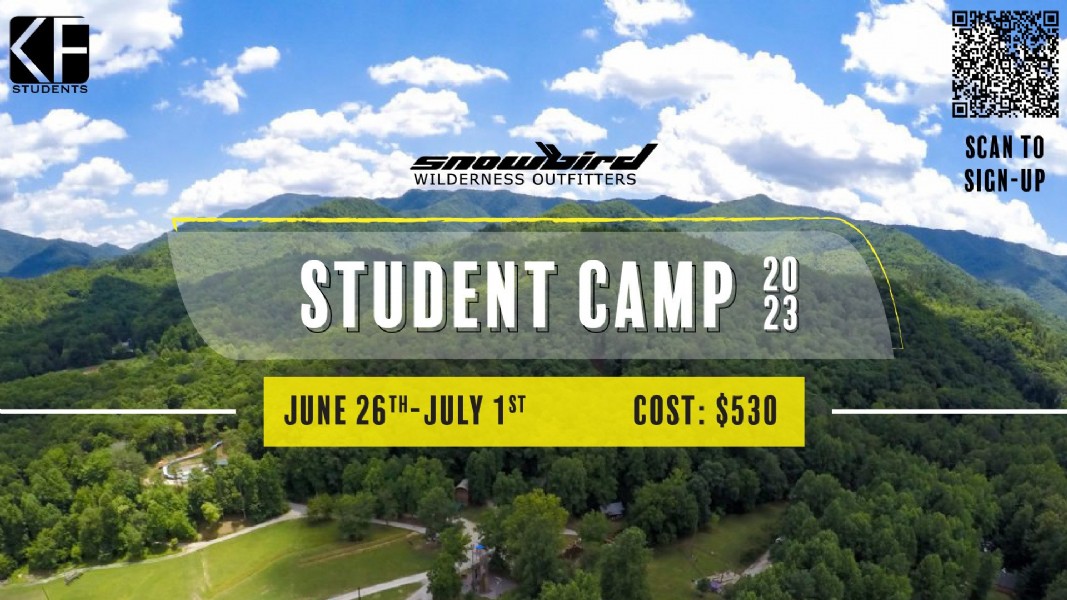 Next summer we are headed to Snowbird Wilderness Outfitters in Andrews, North Carolina. SWO is a high adventure outdoor recreation camp with solid preaching and teaching. You can see a little about the camp by clicking HERE.
You can be placed on the wait list by emailing Pastor Jesse. The total cost for camp is $530.
If you are making additional payments for camp please click HERE.
That cost includes:
Travel to and from the camp.
$5 per meal for all three meals while traveling.
All meals at camp (Total of 14 meals).
Housing for the week of camp.
KF Student t-shirt.
Solid Biblical teaching and amazing recreation.
If you have questions, feel free to contact the church office at (912) 729-5521 or via email at jesseb@kingslan​dfbc.org.
For event updates check the bulletin or our facebook page or instagram page.
Permission and Medical Release for All 2022-2023 Activities Form
WEDNESDAY NIGHT WorshipWORSHIP
The service begins at 6:00 pm and wraps up at 7:30 pm. Wednesday nights are a time that students can come together and worship our Creator as one. Come and be refreshed and renewed in Christ with us in the Chapel on Wednesday evenings.
SUNDAY MORNING STUDENT LIFEGROUPS
Our Student LifeGroups meet at 9:45 am every Sunday morning in the Chapel. After a brief announcement time, Middle School & High School students go to LifeGroup's designed just for them. 
9:45AM STUDENT LIFEGROUPS
GROUP TYPE
GRADE
GIRLS
Grade 6/7/8
BOYS
Grade 6/7/8
BOYS
Grade 9-11
GIRLS
Grade 9
GIRLS
Grade 10/11
COED
Grade 12
SUNDAY NIGHT DISCIPLESHIP
Sunday night for KF Students is a time for our students to meet together to fellowship and grow in their faith. Students gather for fellowship, recreation, and small groups.  Groups are all about conversation and connecting students to each other and a caring adult.  We meet each week in the Chapel from 5:30-7:00pm.